REPLAY ONE OFF II
Kolekcija jesen/zima 2015.
Reply One Off keeps the pioneering spirit alive, reasserting a keen propensity for exploring new territory as the brand tests totally fresh ideas and plays inventively with materials, techniques, design concepts. True to form, starting point for the Fall/Winter 2015-16 collection is a pursuit of unknown synergies among easy, active and formal genres. And so high-performance fabrics, ergonomic cuts and sport details become the keys for rethinking casuals, while printing, styling and textile creation processes take on an increasingly innovative tech slant.
For women
Replay One Off
presents unique items with a clear geo appeal. Setting the tone is a clean and precise type of construction where sportswear influences, unusual design solutions and impressive material mixes interact in unison. A white/black combo dominates the color palette, occasionally bordering on optical effect. The top part of outfits feature distinct volumes offset by surprising geometric cuts or maxi metallic zips. Lots of bold white/black graphics plus strong material and glossy/matte contrasts up the anteAs for pants, skinny and slim fits with a smart ergonomic flair are taken to the next level thanks to white/black interplays and dynamic activewear vibes.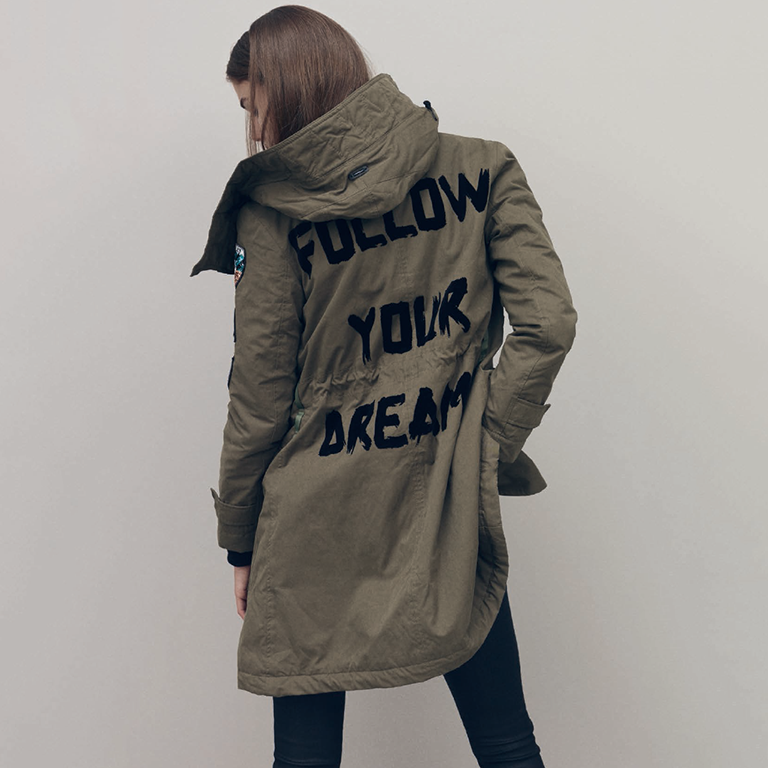 The
Replay One Off
men's collection talks very much about an ultra contemporary and graphic urban look. Bold prints and powerful hues heighten the impact of edgy designs where clean lines meet cool exclusive details. The palette: white & black, blue black, shades of grey, army green (khaki) with reds and washed-out blues for the tees. Starting with sweatshirts, tops feature softly full and boxy cuts underscored by contrast prints and sharp geometries. They range from sweats with big round geo motifs on sides & sleeves, to ample neoprene sweatshirts with wide horizontal techno fabric band, all the way to a hoodie with tech-drawstring hood. For tees meanwhile it's vibrant graphics (as in flock, faux-leather and reverse prints) that tell the story. On the contrary, knits are definitely soft and comfortable in mohair & stretch wool yarns, with dual collars and other recherché details adding an all-important plus. A similar philosophy holds for the doublebreasted jersey blazer and the genuine leather jacket with maxi zip and tech mesh lining, where once again geometric and active details make the difference.