FALL IN LOVE WITH KIKO MILANO RAY OF LOVE COLLECTION
Embrace the heady excitement of falling in love with the new KIKO MILANO Ray of Love Collection this Valentine's season. Designed to capture the excitement of those unforgettable first moments, the romantic new lineup will bring out the very best in you – enhancing sparkling eyes, drawing attention to flushed cheeks and accentuating the beaming smile you just can't hide.
Soft pink and rich red tones play together to create a flirtatious look that works perfectly for date night, while earthy tones of gold, soft brown and taupe showcase your beauty. Each product feels like a special treat created just for you, with softly milled textures, romantic scents and high quality formulations that caress the skin with the gentlest touch.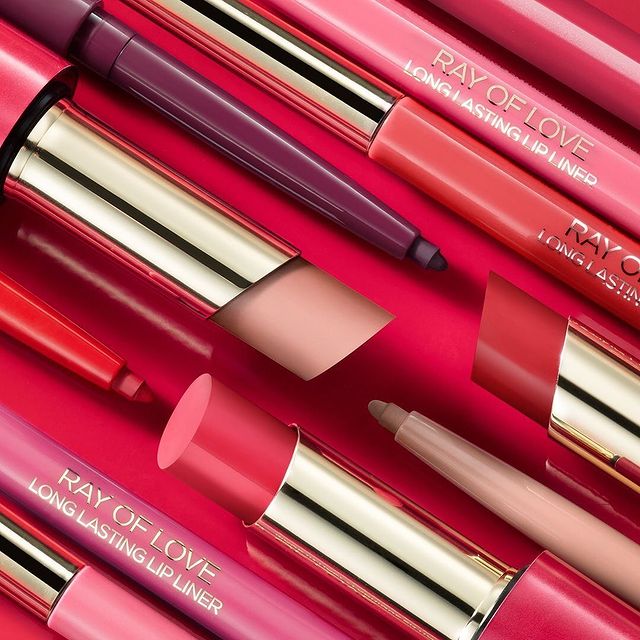 WELL, YOU'RE GLOWING…
The key to your Valentine's look is to create a soft, effortless luminescence as if you're lit from within. Start by creating the perfect base using the Glowing Primer to blur imperfections, boost radiance and create a hydrating effect. The lovestruck glow it gives will illuminate your best features and enhance your natural beauty. Next, use the All Over Brush to apply Radiant Blush in Natural Biscuit or Silky Mauve to your cheeks, dusting a soft layer of colour across your face. You can decide whether to blend across the cheekbones for a gentle flush or place beneath the bone to create some depth and dimension. Take a second to breathe in a hint of its gorgeous scent and bring your senses alive. Next, strobe a generous layer of Highlighter to the very top of your cheekbones, over your nose and under your eye to create a band of light. Easily blendable, it sinks into skin seamlessly to bring a natural glow to your face, defining and emphasising your features. These powders are enriched with jojoba oil with emollient properties, giving a silky touch.
…AND YOUR EYES ARE SPARKLING…
Now it's time to create a gaze that's impossible to avoid with sensual nude and gold shades that playfully contrast with your own eye colour. Blend a matte tone from the Eyeshadow Palette across your lids then accentuate the inner corner of your eyes and browbone with the shimmering gold accent.
Pick La Vie En Rose for a soft rosy mauve hue, create a relaxed smoky eye with the deep brown of Earthy Heart or choose the bold rose pink shade from Chemical Attraction for a loved up look. Build coverage to suit your style, blending effortlessly from the very first stroke. To intensify the colour further and make sure your lover only has eyes for you, pick up Sparkling Eye Top Coat with your ring finger and dab across your lid, adding a shimmering veil of buildable pigment. They won't be able to tear their gaze away. Finish defining your eyes with Eyeliner Duo, using its double tip format to create whichever look you want: choose the felt tip end for a classic and long-wearing cat eye flick or use the crayon end for soft, smudgy colour that blends perfectly into your lash line.
…AND YOU CAN'T STOP SMILING…
Make sure your lips look and feel nourished, soft and thoroughly kissable, whether you choose an effortless effect to enhance your natural lip colour or an attention-grabbing matte finish. If it's a pillow soft, nude lip you like, indulge in advanced lip care with Nourishing Lip Oil to boost hydration and create a gorgeous glossy finish, or choose hydrating and deliciously scented Sparkling Lip Balm for the best of both worlds – creating a Instagrammable shimmering finish, it also enriches lips with moisture boosting and protecting ingredients.
For a high colour release, line lips with matte Long Lasting Lip Liner then plump for a matching Long Lasting Lip Stylo to take full advantage of its intense, matte texture that sits comfortably on the lips. This lip stylo is designed to deliver long-lasting and no transfer pigment in a range of shades from romantic red to playful pink cute coral and beyond, it won't budge or transfer – even if you do get caught up kissing – or even if you are wearing masks. Dab lightly onto your lips for a soft velvet effect or press the bullet down firmly for a rich layer of colour, accentuating your Cupid's bow for a romantic touch.
IT LOOKS LIKE YOU'RE IN LOVE ❤️
Well, seems that being in love really does make you beautiful. You look perfect! It's almost time to head out and enjoy another day of whirlwind romance so take a moment to enjoy the finishing touches. Spritz a little In Love Scented Mist on your pulse points or walk through the spray so it gently scents your whole body, then grab a Perfect Look Kit and drop it in your bag. Combining a Long Lasting Lip Stylo with an Eyeliner Duo, both of the collection, it will make the perfect gift for someone special. It's time to share the love!