MANILA GRACE MAIN COLLECTION SS 18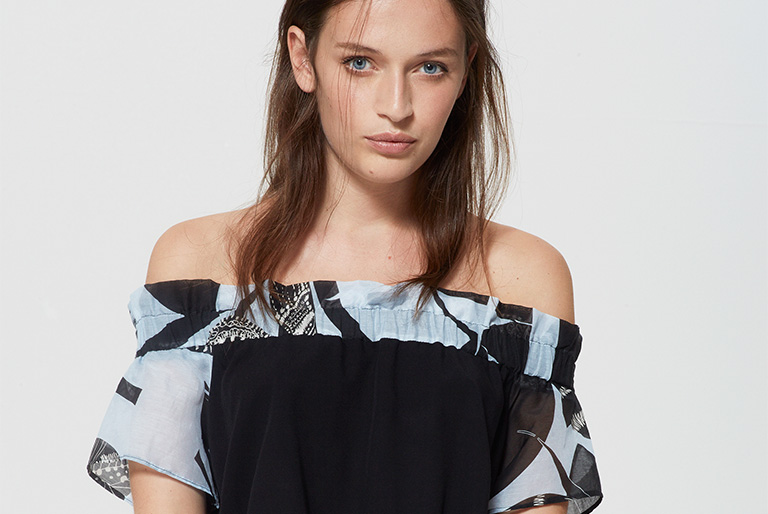 A day like any other day, but at the same time unforgettable. Manila Grace's Spring/Summer 2018 Collection is a hymn to everyday life and concreteness, to the infinite realities and moments we live, which beneath a layer of banalities hide a spirit that makes life indelible, unique and special. This is the kind of spirit that Alessia Santi, creative director of Manila Grace, expresses and places at the centre of next season's collection. Manila Grace imagines an everydayness that emerges from a balanced fusion between femininity and glamour, on the one hand, and comfort and cosiness on the other...evoked through two channels: Natural Beauty and Daily Glam.
NATURAL BEAUTY
Nature expresses her beauty through contrasts. Practicality and lightness converse in Manila Grace garments, giving form to contemporary daywear. The lines and fits of the clothing are deliberately loose, slipping delicately over the limbs without constraining them. Check prints add relaxed rigour to ankle-length dresses or male-style suits whose clean-lined assertive jackets reveal romantic silk shirts with floral prints, here in watercoloured hues, there with bold photographic élan.
The asymmetric skirts draw energy from their ruches and ruffles, creating a cheeky contrast with the geometric lines of the tops. Horizontal and vertical stripes intersect on maxi-shirt dresses, and become blocks of colour on kimono-style palazzo pants with botanical graphics or fluorescent accents on mid-length skirts or ultra-fine knitted cardigans.
DAILY GLAM
Special-occasion glamour blends with Manilla Grace freedom. Enjoyment and originality transform jumpsuits and tunics through the iridescent highlights that satin conjures on them. Floral prints are the collection's leitmotif, imbuing male suits with female verve and bringing softness to the dashing maxi dresses. Elaborate jacquard effects add dynamism and eccentricity to the check motif of the Parisian style jacket.
Black and white narrate a subtly modern sensuality. Stripe motifs burst out in flaming streaks on the total black of corseted mini-dresses or in classy transparent knits. The mannish suit transfigures into visionary refinement in the dazzle of white habotay silk.