GAUDI PRESENTS THE SPRING/SUMMER 2015 WOMEN'S COLLECTION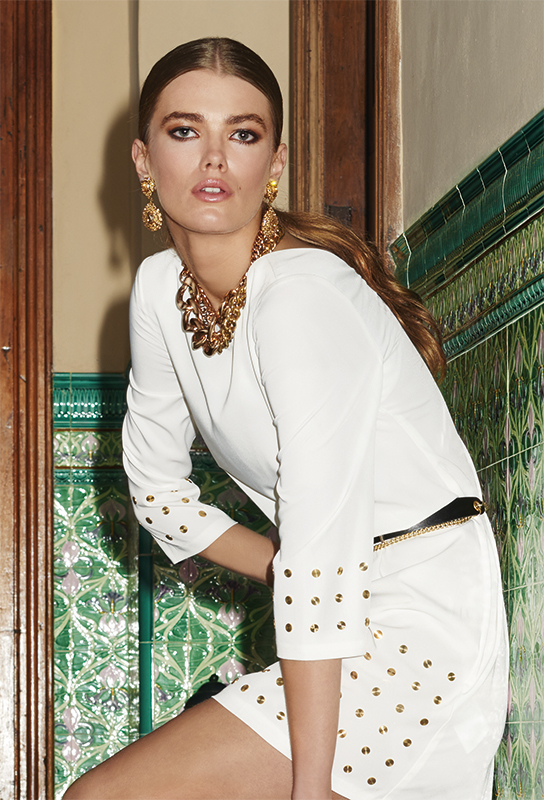 Independent, cosmopolitan and sophisticated in style: this is the identikit of the Gaudi woman for Spring Summer 2015. A rich collection of colours and ideas inspired by the desire for the beach and holiday. So there is lots of room for mini dresses, skirts and light bomber jackets combined with denim offers throughout the collection. Pieces that are combined with each other for a total look that is never predictable and always super glamorous.
The collection features four themes:
Flower Party
A mix of pastel and bright colours muted by military tones are the main features of mini dresses and ultra-light outerwear, 100-gram down jackets and leather jackets. The knitwear focuses on details, with precious inserts that range from cotton crepe to lace details. The fabrics are luxurious - real leather, cotton and georgette illuminated by sequins.
Spring Sky
Hi-tech fabrics discover glamour and are ready to be shown off during the summer holiday. The colours of the sea and the beach come alive, giving life to outfits, dresses and bomber jackets printed with ultra sport details. The fabrics draw liberally from the technical world: neoprene and mesh are combined with linen and cotton laminated with high-impact details of applications of stone, coloured rhinestone and digital prints with a strong effect.
Desert Sunrise
The warmest colours of the desert, tones that are revealed by nature at the most exciting moment of the day: sunset. This is the colour palette that inspired the team of designers at Gaudi: The pieces soften - the parka is redesigned with a feminine silhouette, the motorcycle jacket features lace and long flowing dresses are enriched with ethnic prints and elaborate embroidery. Transparent elements, African-inspired prints and fringes are inevitable details when dreaming of the dunes of Sahara.
Indigo Glam
Denim becomes the key element in the Spring Summer 2015 collection, versatile and suitable for any occasion. In particular, denim is paired with shades of white, gold, black and indigo. Chanel jackets with timeless black and white combinations are illuminated by golden chains. Animal prints in shades of indigo gives energy to denim offered in skinny fit push up, boyfriend and high-waisted versions.