WEEKEND JEANSOMANIA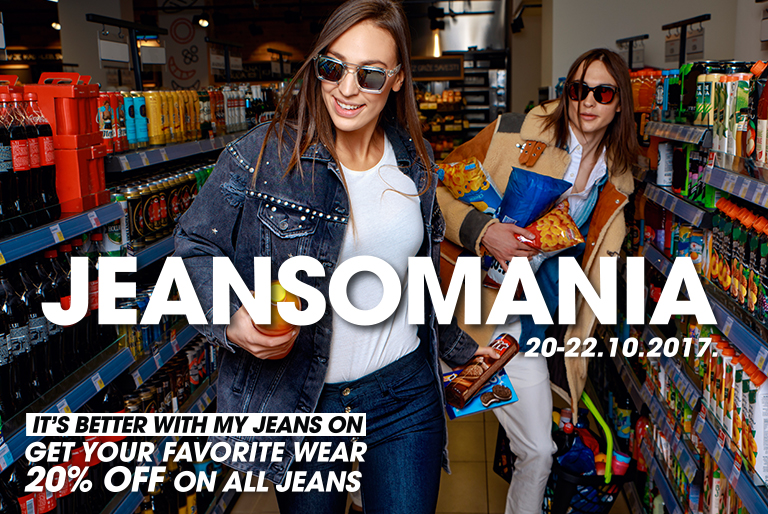 Treat yourself with a pair of jeans to the latest trends during JEANSOMANIA WEEKEND and take advantage of special promotions in FASHION COMPANY stores.
In the period from October 20th to 22nd you will get 20% off on all jeans from the collection fall/winter 2017.
We are expecting you in our stores in Belgrade, Novi Sad, Kragujevac, Nis, Podgorica, Budva, Kotor, Bar, Zagreb, Split, Rijeka.
Let your choice be brands - FASHION & FRIENDS, DENIMLAB, REPLAY, DIESEL, GUESS, LEVI'S, CALVIN KLEIN, HILFIGER DENIM, TIMBERLAND, LIU JO, SCOTCH & SODA, MANGO and others.
SRBIJA
| | | |
| --- | --- | --- |
| Replay Store | BG | Knez Mihailova 33 |
| Marciano | BG | Knez Mihailova 33 |
| Cesare Paciotti | BG | Knez Mihailova 30 |
| Superdry | BG | Knez Mihailova 33 |
| Camper Store | BG | Terazije 31 |
| Scotch&Soda | BG | Rajićeva SC |
| Levi's | BG | Rajićeva SC |
| Timberland | BG | Rajićeva SC |
| Fashion&Friends | BG | Rajićeva SC |
| Calvin Klein Jeans | BG | Rajićeva SC |
| Tommy Hilfiger | BG | Rajićeva SC |
| Diesel, TC Ušće | NBG | Bul.Mihaila Pupina 4 |
| Calvin Klein UND, TC Ušće | NBG | Bul.Mihaila Pupina 4 |
| Fashion&Friends, TC Ušće | NBG | Bul.Mihaila Pupina 4 |
| Guess, TC Ušće | NBG | Bul.Mihaila Pupina 4 |
| Timberland, TC Ušće | NBG | Bul.Mihaila Pupina 4 |
| Tommy Hilfiger, TC Ušće | NBG | Bul.Mihaila Pupina 4 |
| Levis, TC Ušće | NBG | Bul.Mihaila Pupina 4 |
| MANGO, TC Ušće | NBG | Bul.Mihaila Pupina 4 |
| Fashion&Friends, TC Delta City | NBG | Jurija Gagarina 16 |
| Calvin Klein UND, TC Delta City | NBG | Jurija Gagarina 16 |
| Timberland, TC Delta City | NBG | Jurija Gagarina 16 |
| Guess Jeans, TC Delta City | NBG | Jurija Gagarina 16 |
| DENIM LAB, Delta city | NBG | Jurija Gagarina 16 |
| MANGO, Delta city | NBG | Jurija Gagarina 16 |
| Fashion&Friends, BIG Fashion | BG | Višnjička 84 |
| Fashion&Friends, TC Plaza | KG | Dimitrija Tucovića bb |
| Tommy Hilfiger | NS | Zmaj Jovina 19 |
| Timberland | NS | Zmaj Jovina 5 |
| Levi's | NS | Zmaj Jovina 8 |
| Replay | NS | Zmaj Jovina 10 |
| Fashion&Friends, TC BIG | NS | Sentandrejski put 11 |
| MANGO, TC BIG | NS | Sentandrejski put 11 |
| Guess | NS | Pozorišni Trg 7 |
| Fashion&Friends, TC Forum | NI | Obrenovićeva 42 |
| Levis,TC Forum | NI | Obrenovićeva 42 |
| Tommy Hilfiger,TC Forum | NI | Obrenovićeva 42 |
CRNA GORA
| | | |
| --- | --- | --- |
| Cesare Paciotti | PG | Ulica Slobode 13 |
| MANGO, TC Delta city | PG | Ulica Slobode 13 |
| Guess Jeans, TC Delta city | PG | Cetinjski put BB |
| Tommy Hilfiger, TC Delta city | PG | Cetinjski put BB |
| Replay | PG | Ulica Slobode 25 |
| Fashion&Friends, TC Delta city | PG | Cetinjski put BB |
| Fashion&Friends | BD | Mediteranska 9 |
| Fashion&Friends | KO | Kamelija SC |
HRVATSKA
| | | |
| --- | --- | --- |
| Fashion&Friends | ZG | Vice Vukva 6 |
| Fashion&Friends CCo West | ZG | Jakomir 33 |
| Fashion&Friends ILICA | ZG | Ilica 33 |
| Fashion&Friends Joker centar | SP | Put Brodarice 6 |
| Fashion&Friends Tower centar | RI | Janka Polić Kamova 81A |
| Fashion&Friends CCo | SP | Vukovarska ul. 207 |
| Fashion&Friends Pjaca | SP | VNarodni trg 4 |