THE CHAINSMOKERS AS GLOBAL BRAND AMBASSADORS FOR TOMMY HILFIGER MEN'S
Beginning Fall 2017, the internationally renowned American musician/producer duo, The Chainsmokers, will appear as global brand ambassadors for Tommy Hilfiger men's.
Tommy Hilfiger announces Alex Pall and Andrew (Drew) Taggart – globally known as the celebrated American pop music/producer duo, The Chainsmokers – will appear as the global brand ambassadors for Tommy Hilfiger menswear, including Hilfiger Edition, Tommy Hilfiger Tailored and Tommy Hilfiger sportswear, beginning Fall 2017. The Grammy award-winning duo brings a modern, youthful twist to the brand's more than 30-year global menswear legacy. The partnership builds on Tommy Hilfiger's heritage of combining fashion and music, bringing the brand's unique perspective on pop culture to life.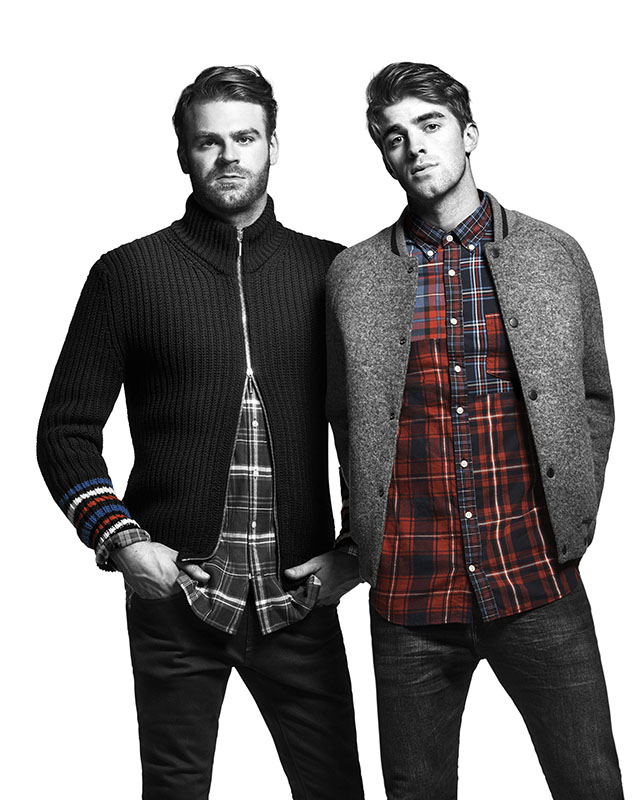 "The Chainsmokers are at the center of modern pop culture and their music resonates with a global audience," said Tommy Hilfiger. "I admire the way they have carved out a new niche that fuses indie, pop, dance, and hip-hop. Alex and Drew are truly the perfect definition of today's Tommy Guy – their talent, optimism, unique sound and effortless cool have made them standout in the music world. We're extremely excited to work with them in the fashion space."
Formed in 2012, The Chainsmokers have sold more than 10 million singles and are currently the third most streamed artist in the world. In 2017, the duo won the Best Dance Recording Grammy with "Don't Let Me Down," featuring Daya, and their single "Closer," featuring Halsey, was recognized as the Top Collaboration of the Year at the Billboard Music Awards. It was also the first lyric video in history to surpass one billion YouTube views.
"Like Tommy Hilfiger, we have always believed in celebrating individuality and breaking conventions," said The Chainsmokers. "Tommy paved the way for collaborations between fashion and music, and we are excited to collaborate with a brand that aligns so closely with our own artistic approach and shares our passion for creating memorable experiences for our fans."
The Fall 2017 Tommy Hilfiger men's offering celebrates the '90s with a fresh twist on tradition as the collection embodies the rebellious attitude that characterized the decade. The men's collections are available at Tommy Hilfiger stores globally, through select wholesale partners.
#TOMMYXTHECHAINSMOKERS