TAILORED FALL/WINTER 2014 COLLECTION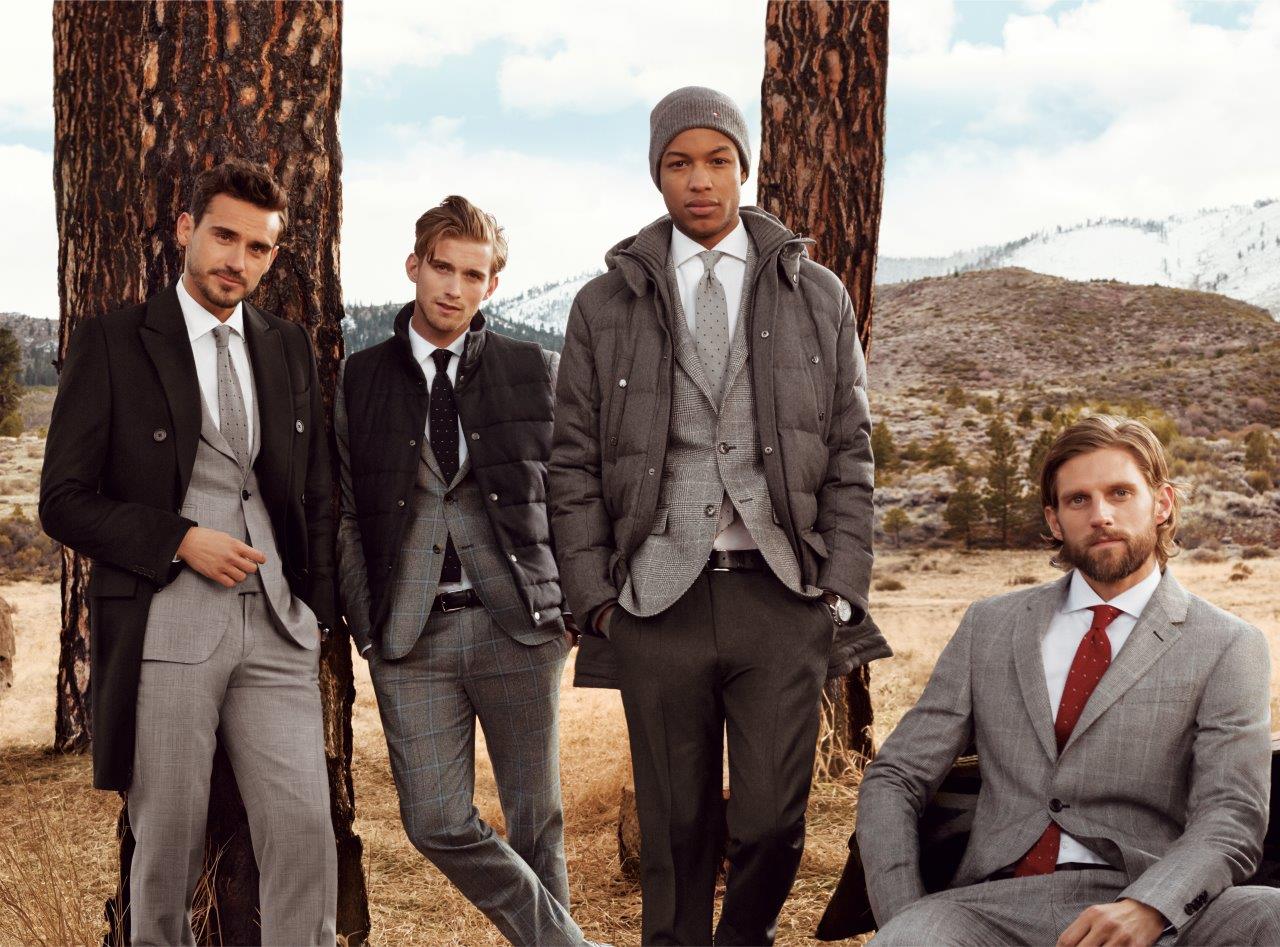 The Tommy Hilfiger Fall/Winter 2014 Tailored collection celebrates the best of coast to coast sartorial style. From the United States to the United Kingdom, the collection mixes all-American charm with English sophistication. Featuring Savile Row tailoring and heritage prints, the Tailored collection reinterprets formalwear to loosen up structured styles for a relaxed yet refined aesthetic. For the American in London or the Englishman in New York, gradient color schemes embrace the nuances of modern tailoring.
The first fashion group, Boston, embraces the lively east coast prep aesthetic. It's rooted in classic blue suiting – the staple pieces around which a wardrobe can be built – while subtle hints of camel and gray appear in pinstripes, micropatterns and tonal checks. Key pieces in denim blue and indigo take on a casual feel, with touches of burgundy completing the story. For early autumn days, suiting can be effortlessly paired with lightweight down jackets, camel coats, garment-dyed merino sweaters and slim cardigans in new argyles. Blazers in true navy, slate and steel gray are constructed in lightweight wools which layer effortlessly under leather jackets, traditional trench coats, or statement nylon vests and jackets.
The second fashion group, Middlebury, embraces a color palette reminiscent of rustic Vermont in autumn. Chestnuts browns and mushroom grays are paired with bright overchecks in pops of camel and burnt orange. Overcoats are modernized as tech meets tradition. Textured brushed flannels and wools mix with down jackets and bodywarmers. Lightweight wool coats incorporate nylon interiors, and slim wool vests are paired with suit jackets; layer over neutral polo shirts, extra-fine merino or cable-knit sweaters to create a relaxed yet sophisticated feel.
The final stop is in Portland, just in time for the holidays. The eveningwear capsule collection features pieces perfect for festive nights on the town, such as true blue tuxedo jackets and trousers. It's an irreverent yet refined tailored look. For casual holiday outings, tartan shirts and linings add a unique twist to garment-dyed blazers and sweaters. In outerwear, washed wool and herringbone jackets with soft shoulders and deconstructed textures complete the look.
Boston Key Details: Classic suiting, lightweight down, nylon vests, trench coats, lightweight wool, denim blue. Color Palette: Navy blue, steel blue, Prussian blue, oxford blue, cloud, Provence, khaki, cordovan, burgundy, camel.
Middlebury Key Details: Overcoats, brushed flannels, down jackets, nylon interiors, sweaters, polo shirts, Middlebury check. Color Palette: Chestnut brown, mushroom gray, rust, mustard yellow, olive drab, graphite, camel, burnt orange.
Portland Key Details: Tuxedos, garment-dyed blazers, tartan, washed wool, soft shoulders, deconstructed textures, herringbone. Color Palette: Saxony blue, june bug, darkest spruce, north sea, snow white, cloud, silver fog, charcoal, navy blazer, insignia blue.