SEASON SALE UP TO 70% OFF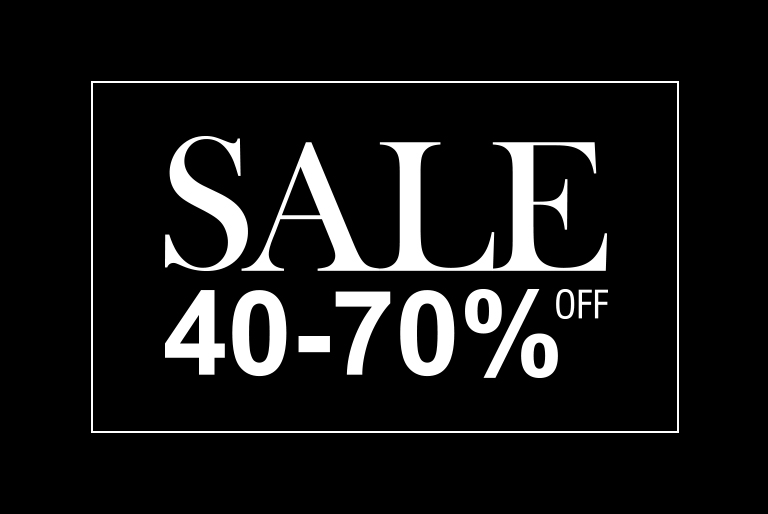 SEASON SALE 40-70% OFF
related to the autumn / winter 2016 collection has started in
FASHION COMPANY
stores.
* Exceptions are brands Ugg and Timberland (part of the offer - maintenance chemicals and footwear were reduced from 30 to 70% off).
Take the opportunity to treat yourself with trendy pieces of the most famous urban brands such as Replay, Diesel, Guess, Tommy Hilfiger, Levi's, Timberland, Calvin Klein , LIU JO, Scotch & Soda, Bata, Cesare Paciotti, Premiata, Camper, Lee, Wrangler, Desigual, New Zealand and many others. You are welcome in our stores in Belgrade, Novi Sad, Kragujevac and Nis. Visit our multi brand stores
FASHION&FRIENDS
and
DENIM LAB
. Your Fashion Company.
SERBIA:
Replay Store – Knez Mihailova 33, Beograd Marciano Guess – Knez Mihailova 33, Beograd Cesare Paciotti – Knez Mihailova 30, Beograd Bata city store – Knez Mihailova 30, Beograd Tommy Hilfiger – Kralja Petra 30, Beograd Fashion&Friends – Bul. Kralja Aleksandra 28, Beograd Camper Store – Terazije 31, Beograd Bata city store - Kralja Milana 33, Beograd Scotch&Soda – Kralja Milana 3, Beograd Diesel – Ušće SC, Bulevar Mihaila Pupina 4, Beograd Fashion&Friends – Ušće SC, Bulevar Mihaila Pupina 4, Beograd Guess, Bulevar Mihaila Pupina 4, Beograd Timberland – Ušće SC, Bulevar Mihaila Pupina 4, Beograd Tommy Hilfiger – Ušće SC, Bulevar Mihaila Pupina 4, Beograd Levi's – Ušće SC, Bulevar Mihaila Pupina 4, Beograd Calvin Klein Underwear – Ušće SC, Bulevar Mihaila Pupina 4, Beograd Bata city store – Ušće SC, Bulevar Mihaila Pupina 4, Beograd Levi's – TC Delta city, Jurija Gagarina 16, Beograd Fashion&Friends – TC Delta city, Jurija Gagarina 16, Beograd Timberland – TC Delta city, Jurija Gagarina 16, Beograd Guess Jeans – TC Delta city, Jurija Gagarina 16, Beograd Calvin Klein Underwear – TC Delta city, Jurija Gagarina 16, Beograd DENIMLAB – TC Delta city, Jurija Gagarina 16, Beograd Bata city store – TC Delta city, Jurija Gagarina 16, Beograd Bata city store – Mercator, Bulevar Umetnosti 4, Beograd Fashion&Friends – TC Plaza, Dimitrija Tucovića bb, Kragujevac Bata city store – TC Plaza, Dimitrija Tucovića bb, Kragujevac Tommy Hilfiger – Zmaj Jovina 19, Novi Sad Timberland – Zmaj Jovina 5, Novi Sad Fashion&Friends – Zmaj Jovina 19, Novi Sad Guess – Pozorišni trg 7, Novi Sad Bata city store – Mercator, Bulevar Oslobođenja 102, Novi Sad Fashion&Friends – BIG SC, Zmaj Jovina 19, Novi Sad Bata city store – BIG SC, Zmaj Jovina 19, Novi Sad Fashion&Friends – Forum SC, Obrenovićeva 42, Niš Levi's – Forum SC, Obrenovićeva 42, Niš Tommy Hilfiger – Forum SC, Obrenovićeva 42, Niš Bata city store – Forum SC, Obrenovićeva 42, Niš
MONTENEGRO:
Cesare Paciotti – Ulica slobode 13, Podgorica Fashion&Friends – TC Delta city, Cetinjski put bb, Podgorica Guess Jeans – TC Delta city, Cetinjski put bb, Podgorica Replay – Ulica slobode 25, Podgorica Tommy Hilfiger – TC Delta city, Cetinjski put bb, Podgorica Fashion&Friends – Mediteranska 9, Budva Fashion&Friends – Kamelija SC, Kotor Bata - TC Delta city, Cetinjski put bb, Podgorica Bata - Ulica Slobode 23, Podgorica Bata - Mediteranska 9, Budva