REGIONAL FASHION LEADER FASHION COMPANY OPENED 5 STORES IN GALLERY BELGRADE
Fashion Company, the leading fashion retail company in Southeast Europe, opened five stores in the Gallery Belgrade shopping mall today, making another significant step forward in the fashion offering on our market.
The new, largest in the flagship store Fashion&Friends region as well as monologues Replay, Guess, Timberland and Camper span an area of almost 2000m2, employing about 50 people and offering over 25 prestigious global fashion brands that will delight true lovers of good shopping.
In the second phase of the opening, shoppers will have the opportunity to enjoy the iconic Italian make-up brand KIKO Milano from December, and from spring 2021. And stores of favorite urban brands Diesel, Calvin Klein, Levi's, Tommy Hilfiger, Patrizia Pepe and Superdry.
FASHION&FRIENDS
A grandiose flagship store, Fashion&Friends, has opened in the most luxurious part of the mall, providing the complete enjoyment of shopping on 1,300 square feet of impressively landscaped space.
The new concept of the store is inspired by an industrial aesthetic in which warm, natural materials with elements of metal and concrete are overlaid, while the combination of black, white and gold color of different textures gives a dose of timeless sophistication.
The space is dominated by a blend of ants, wood, glass and green tropical herd, creating a visually lavish environment that exudes luxury and a great love of fashion.
Attention is drawn to the striking black graffiti ceiling with visible beams and installations, accented by hanging greenery and circular, energy-efficient chandeliers, which contribute to the dramatic effect of the whole space.
The central motif of the new Fashion&Friends flagship store is the "room in the room," accentuated by an elegant black-and-white flooring area, as well as a lavish lounge area that is a gathering, tasting and socializing area.
GUESS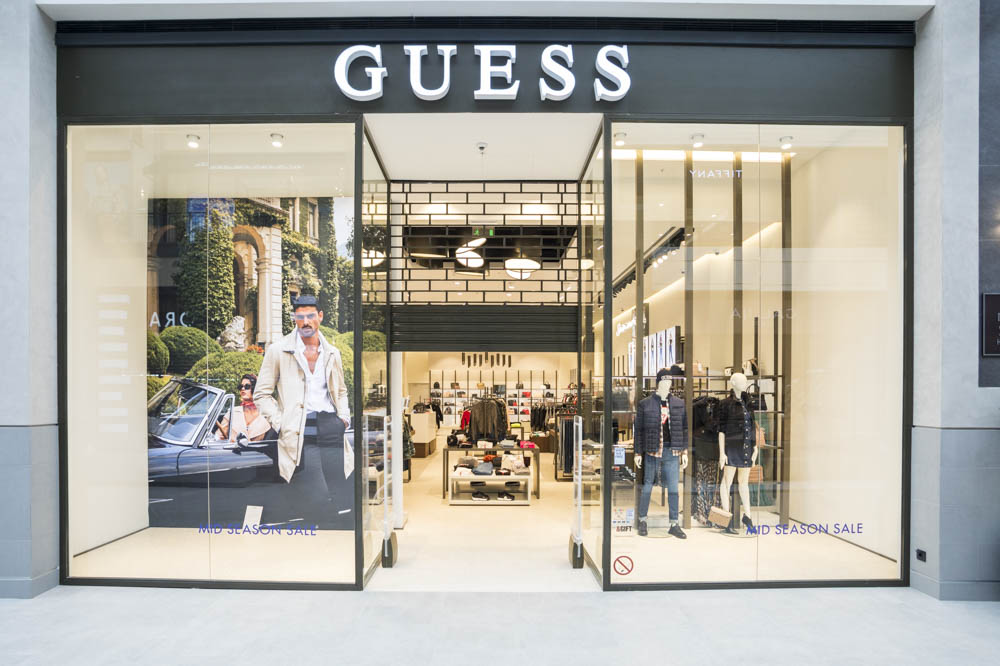 Renowned American brand Guess, which has been synonymous with fashion glamour for decades, displayed the latest collection of clothing, footwear and accessories for fashion trendsetters of distinctive style and distinctive taste.
REPLAY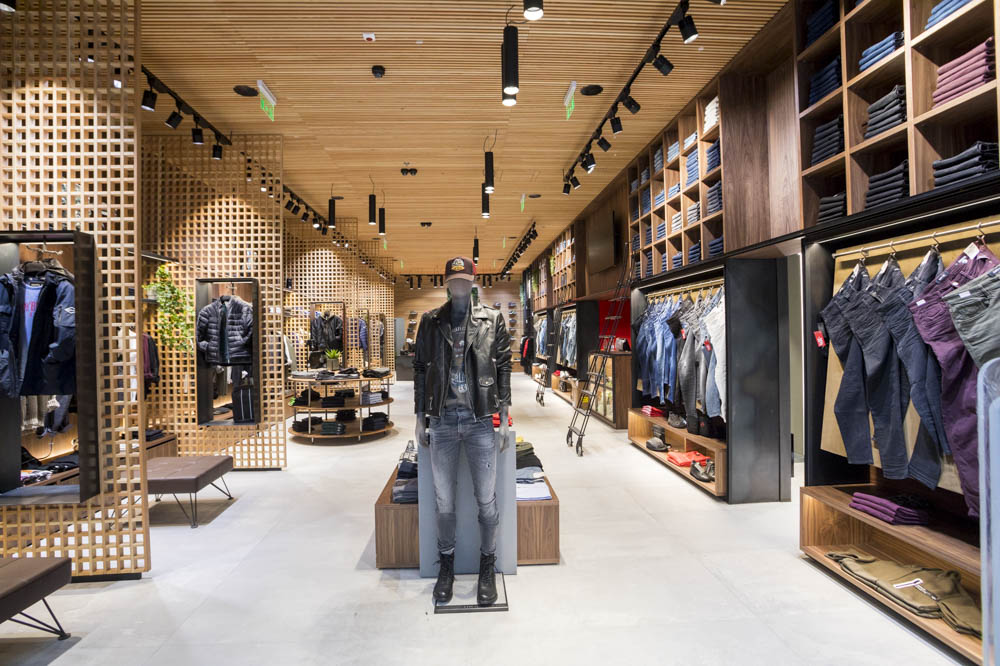 All fashion enthusiasts of Italian design and top quality in 180 square meters can find the latest pieces from a brand that has dictated trends in the world of denim for more than three decades. The concept and design of the action follow Replay's global guidelines, focused on contact with nature and emotions.
TIMBERLAND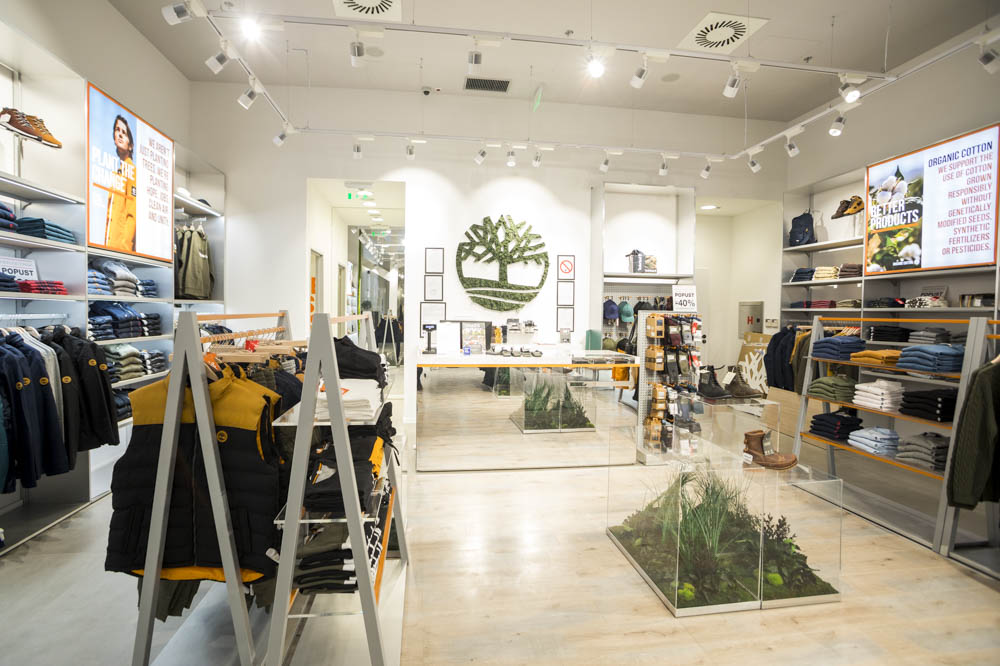 America's most famous footwear brand Timberland, the creator of the legendary "Canadian" model, presented the collection for autumn/winter 2020 on store shelves at the Belgrade Gallery. which is an ideal combination of urban design, new technology and eco-friendly fashion.
CAMPER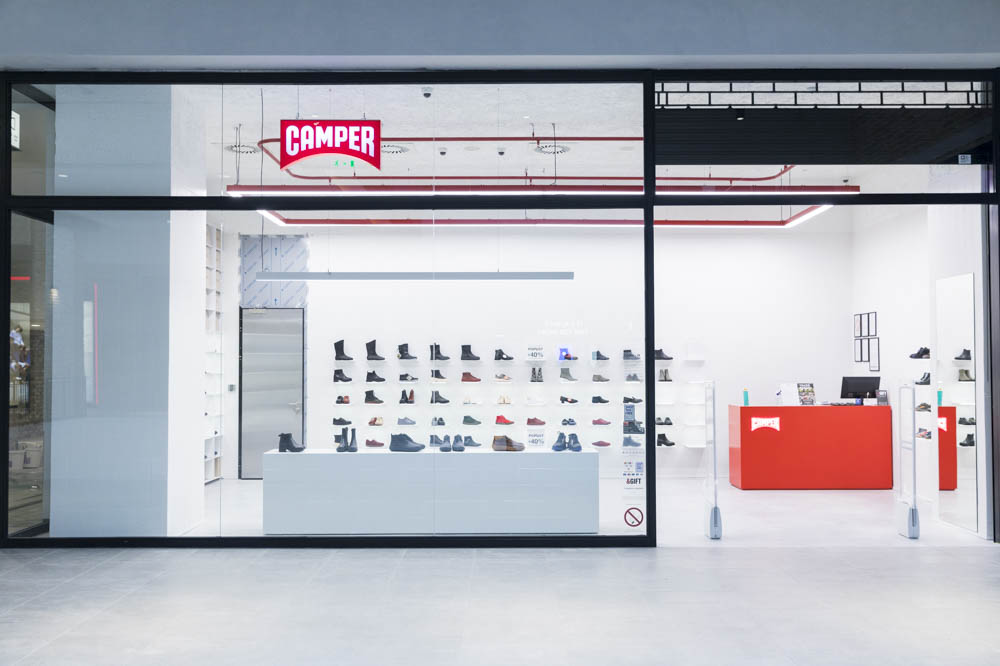 A shoe designer, Spanish brand Camper has bravely experimented with the design and aesthetics of its models over the years, creating original new styles for men and women. Located on the first floor of the shopping centre, the store offers the latest collection, which is true to the brand's distinctive spirit and heritage.