THE NEW KIKO MILANO MOOD BOOST COLLECTION: BRIGHT VIBES ONLY
Introducing the new KIKO MILANO Mood Boost Collection, a new line up bringing bright vibes to your beauty kit for Spring 2021. With products designed to invigorate your senses and give you a seasonal overhaul, the collection is guaranteed to boost emotions and senses to break your winter blues with colours, scents and sensorial texture and packaging.
Fresh new shades and embracing scents sit alongside pleasing textures and gently contrasting tones to form a line up that allows you to best represent you and your mood. Skin and face products give a gorgeous glow, while eye and lip products accentuate your beauty and bring your features alive. The collection's modular palette allows you to play with colour and texture to create a look that's as soft or as vivid as you like – gentle pastel tones sit alongside rich, vibrant colour pops, with everything blending perfectly together. The season's new look is emerging, and you can decide how it comes to life.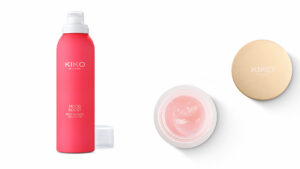 INVIGORATE
Brighter days are coming so it's time to get ready to glow. Throw off the duvet, head for the shower and start the day right, reaching for Body Shower Mousse Me and indulging in its yummy violet fragrance and lightweight mousse texture. Once you're wide awake and silky skinned, it's time to take care of your facial routine. Start with Transforming Face Cleansing Balm to wash away dullness, applying the balm to your face with damp fingertips. Breathe in the delicate floral fragrance while the balm transforms to an oil texture and melts away wintery residue, massaging it into your face in circular motions to stimulate your senses and wake up your tone. Wash away the oil to reveal a glowing complexion. Next, apply Brightening Serum with this delicate lotus flower fragrance, letting it absorb into skin to enhance your new radiant look.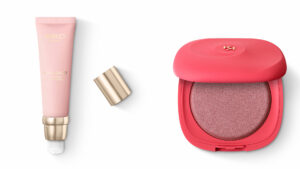 GLOW
Now your face is perfectly prepped, it's time to harness that gorgeous springtime glow with products that delivers maximum radiance. Begin with Luminous Foundation to boost your skin's natural brightness, enjoying its comforting texture and olive scented fragrance as you apply it. Top that off with a flush of Radiant Blush in Cappuccino Cake, Coral Sunset or Perfect Mauve, building light and volume on your cheeks. Dust Matte Bronzer in Sweet Honey or Neutral Sienna to the high points of your face, from your temples to the bridge of your nose and watch as the four colours from the palette blend seamlessly together to create the subtlest hint of bronze.
Next, it's time to highlight your face. Grab the Good Vibes Only Face Palette for touch ups on the go, bringing together your favourite shades in one place. Explore the rose and gold highlighters applying them lightly to the tops of your cheekbones for a soft shimmer, then pick up the Pearls of Light Highlighter in Rose Allure or Golden Soul to gently illuminate your whole face.
Balance excess shine with translucent Perfecting Powder, which will address imperfections and hold the look in place without compromising any of the natural glow you've created. Throw the powder in your bag for touchups during the day to make sure your new look stays on point.
DAZZLE
Bring a twinkle back to your eyes by playing with lightweight sparkle in springtime shades. Mix matte and shimmering shades for a look that feels full of newness, exploring different combinations of pink, gold and silver. With different textures and formats designed to come together in so many different ways, how you wear it is up to you. For an effortless hint of colour, pick up and get creative with the matte and the metallic colours of the Mad For Colours Eyeshadow Palette, Choose from two combinations: Dive In Colours, offering warmer jewel tones and In Colours We Believe, with muted, earthy tones. If you want to amp up the intensity and show off a brighter new look, go further with the deep, sparkly pigments from the palette, mixing and matching the colours as you go.
You might want to try the gold, bronze, pinkish or whitish tones of the Glittery Liquid Eyeshadow alone for a metallic effect or layer over the top of a richer colour for a high impact finish. The foolproof delivery and liquid fresh texture will glide onto your lids with ease, making the look both easy and eye-catching – ideal!
If you're ready to really make a statement, inject some definition with Long Lasting Eyeshadow & Eyeliner, a matte pencil and metallic eyeshadow duo designed to make different combinations that will bring out your creative side. Offering long-lasting, eight hour pigment, the duo pigment is designed to stay put no matter how you style it so experiment with your favourite colour and texture combinations. Frame your eyes with a double coat of 3-in-1 Mascara, selecting the hourglass-shaped brush for a volume-enhancing effect or the curved one for a curled and lengthened look. If it's high octane enhancement you want to go for, use one brush after the other and create a panoramic feel that's guaranteed to show you're ready to take centre stage again. Finally, use Duo Eyebrow to frame your face and create structure to your brows, using the pencil for super precise lines and the felt tip end for even, realistic definition.
SMILE
Bring in the new season with rich matte or high shine lip colour that will put a smile on your face.
For matte lip lovers, You Make Me Matte Lipstick offers a wide range of shades, from red to pink and brown hues covering your lips in a velvet soft texture with a single stroke. Infused with a raspberry fragrance that smells good enough to eat, its creamy formulation will melt into your lips for a comfortable fit.
If it's shine that you're plumping for, there's a new lip combination designed to level up and supersize your look. Begin by using a creamy Match Me Lip Pencil to define your lips' natural shape and hold lip colour in place, then fill with Born To Shine Lip Stylo, choosing the shade and distinctive scent to suit your mood. Each shade is enriched with a different fragrance: pink grapefruit, melon, apricot and cherry.  Next, layer up with Enchanting Lip Gloss. Packed with translucent particles, its pearlescent pink and nude shades deliver a vinyl effect bursting with pigment. 
Finish the look with a salon-worthy mani that channels one of the season's new shades using Amaretto-scented new Nail Lacquer. Deliver high-shine colour that best represents you, from pastel pink Strawberry Milkshake and popping Blue Vibes through to rich and sophisticated Brick Lane and Mauve Des Bois.
You've got a new look and you are SO ready for the new season. Go get it!