Diesel Holiday 2018
For this coming holiday season, don't even bother with traditional formalities: head straight to the afterpar-ties.
Diesel's Holiday 2018 collection is a natural evolution from Fall Winter 2018; it still takes its cues and source-points from London's subculture, but adds a clubbier edge—its main colors are dark-room blacks and night-owl grays, but with jolts of fluorescent pink. After all: what's nightlife without a dash of neon?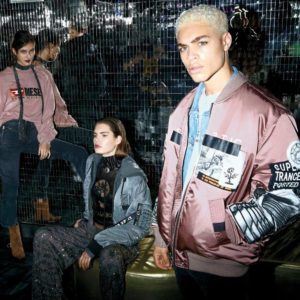 There are also elements derived from punk rock inspiration, tons of layered leathers and tartans, along with a consciously disheveled overall spirit, as well as an emphasis on textural interplay and eccentricity.
Embellishments are prevalent, including studs, eyelets, glitter, Swarovski crystals, and chains. For women, the looks have flashes of spotlight sparkle, and are amplified by transparent muslins with prints or 3D foils adhered to knitwear. The men's lineup is heavy on outerwear, blazers and shirts with distinctively Diesel treatments.
Both men and women see hooded parkas in Day-Glo pink; instances of logomania; plaids and belting and exaggerated layering. Diesel's standout "Denim Division" logo is introduced in a new color-way: soft pink, offsetting the darker neutral tones of the collection. Rubber and leather accents reinterpret denim pieces for a perfect nighttime appeal.
Overall, there's a unique texture-on-texture combination that draws notions from the past, collides them with the present, and in turn feels wholly contemporary—and all under the cover of a can't stop-won't stop night. Who says you have to slow down on the holidays?
The Diesel Holiday 2018 collection introduces a number of new denim fits, ranging from the D-Eiselle (straight leg, high waist for women) to the D-Earlie (a slim style with kick-flare bottom and regular waist for women) to the D-Strukt (a tapered style for men) to the D-Earby JoggJeans (a biker style realized with the versatile JoggJeans fabric). All in all, there are 11 new denim styles between men and women.
Accessories are also a large component of the Holiday collection, including a new women's velvet range, a new unisex sneaker line (called Astico), new men's bags and backpacks with trekking-inspired details.