CAMPER LAUNCHES MULTI-MEDIA CAMPAIGN FOR SPRING SUMMER 2016
Camper has now unveiled its entire Spring/Summer 2016 multi-media campaign featuring all 11 pop personifications from Creative Director Romain Kremer's collection dedicated to Mallorca. Falling into three segments, the collection is named after various areas of the island with an edit of this season's most inspired looks such as Marta, Mateo and Dub representing the artist colonies of Deia, Isamu the clinical crystal clear waters of Es Trenc and Marges, Dub, Paradise, Marta and Kobarah the holiday hysteria of Arelluf starring in the campaign.
"For the Spring/Summer 2016 collection I looked to the history and nature surroundings of Mallorca. It's the home of Camper and has such diverse communities from the artist colonies in Deia to the tourist frenzy of Magaluf, which I always find charming. The campaign is a personification of that." Romain Kremer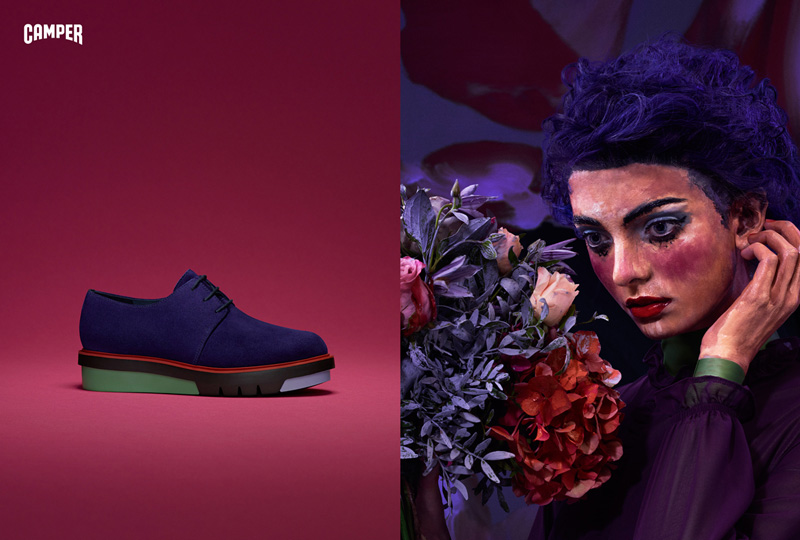 Cast and shot in London by Daniel Sannwald and styled by Anna Trevelyan with make-up artist Isamaya Ffrench's unconventional take on beauty, Kremer's techno futurist aesthetic translates into a squad as diverse as the collection itself including lush bohemians and subversive latex tourists with a guest appearance by London performance artist Pandemonia. The campaign falls somewhere between fantasy and reality.
Selfie culture also takes over this season with 15-second videos shot for each of the 11 characters. The Spring/Summer 2016 Campaign images can be seen in a carefully curated selection of publications, while the guerrilla poster campaign, which began in January, continues with new images hitting Paris streets in March followed by New York, London and Berlin in April and comes to life thanks to an immersive website that lets users travel to the Mediterranean paradise.
You can discover the full digital experience: www.camper.com/spring-summer-16 art direction: Romain Kremer photography & video: Daniel Sannwald styling: Anna Trevelyan hair: CHARLIE LE MINDU make up: Isamaya Ffrench set design: Gary Card music: James Kelly landing page design: Convoy Agency